Ready to show up, stand out and get clients? I'm sharing some of my best Visibility by Video strategies to catapult your visibility online—using little known, but powerful tips to shortcut your path to clients using LIVE STREAM VIDEO (even if you're an introvert!)
I have 4 C's for you...when you include Live Streaming and Video into your content creation strategy, you're looking to gain more CONFIDENCE.
Through that Confidence, you'll CONNECT with your tribe, your fans, your peeps and start building those long lasting relationships that are built on Know, Like and Trust factors.
NOTHING will accelerate that relationship building like video.
Through that connection, you'll begin to share content that is COMPELLING to your audience, compelling enough to get them to take action and that's when you CONVERT. Convert your audience into a paying client.
LET ME HELP YOU...
* Gain CONFIDENCE
* CONNECT with your audience
* Be COMPELLING with your content
* and CONVERT your followers into paying clients.
If you're trying to grow your business but aren't sure where or how to to show up and reach your clients without pulling your hair out, then you should definitely ENROLL in my 'Go Live With Ease' course. This course is based on a 5 day Visibility by Video challenge I hosted a few months ago and got great results for the members who participated.
I'll show you how to be visible every single day, *without* being on Facebook, Instagram and Pinterest every second of the day.
At first, I thought I could take all the strategies I used to build my career and brick-and-mortar consulting practice to grow my online business quickly.
Easy peasy, right?
After 20 years in corporate, and over 7 years of running my own successful, multi six-figure consulting business, I thought building my ultimate dream biz— COACHING ENTREPRENEURS to grow and scale their own businesses into true companies—would go fast.
I'd already done it, after all—so, how hard could it be? HOLY SMOKES, I was wrong.
Building and scaling a business online required a whole new set of skills I didn't even know I needed—*especially*VIDEO (and that was a hard thing to grasp for an introvert like me).
What worked for me offline did NOT immediately translate online and, to find my clients, grow my new business, and start making money, I had to figure how to make it work QUICKLY.
Did I figure it out right away? NOPE. Did I make mistakes? YUP.
But did I give up? NEVER!
I quickly learned that one of the best and fastest strategies I could adopt and implement to grow my online business fast, was to be VISIBLE on VIDEO.
I tried all the tricks, finding what worked and throwing out what didn't, and in the process created a core strategy that got results quickly.
In less than a year, I went from having zero online presence to a thriving online community of over 5K,, a booked-solid calendar of 1:1 clients, plus several successful group programs including a JV mentorship program and a line of a few digital courses and products. (And that's with not even having a Facebook account until Dec. 2015!)
MY VIDEO VISIBILITY STRATEGIES HAVE ALLOWED ME AND MY CLENTS TO -
👆 SHOW UP (quickly) as an expert & create a strong following. (Grow my FB page and Group to thousands)
👆 Show up with CONFIDENCE AND PURPOSE as well as consistency of message. (Gain a solid reputation in an area of expertise)

👆 Attract real, serious prospects, CONVERTED THEM TO CLIENTS, and get paid (and paid well, I might add!)...after building relationships and being known as an expert, when you offer your service or product, your audience will be ready)
Today, I show my clients exactly what I did to build my own business, especially using the power of live streaming and video: Let's get you ready and let me show you how to show up online as the expert, connect with ideal clients and scale our businesses successfully ONLINE.
By getting laser-focused on the REAL principles and strategies that get leads, clients, AND sales, you can build (and actually *scale*) a successful online business—without stress or headache. If you're struggling with feeling stuck in the process of building your business visibility, I can help.
Take a look at a few of my stat results from my FB Biz Page Videos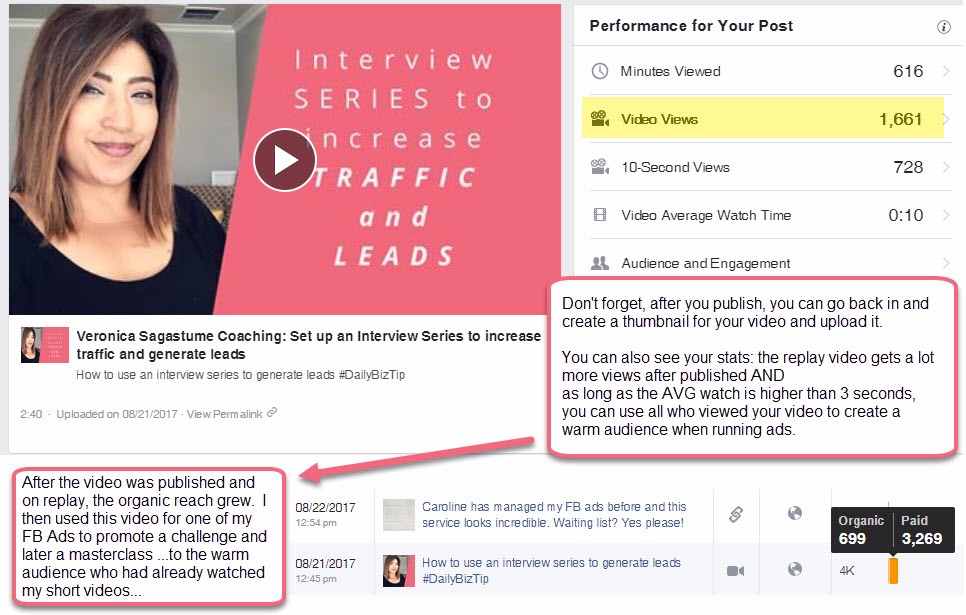 When you enroll in this course, you'll go through the 5-Day Visibility By Video challenge with its daily lessons and replay of live trainings.
Every day, you'll get my best tips and strategies on how to establish your expertise, increase your visibility to grow your fan base and skyrocket your Know Like & Trust Factor through proven VIDEO strategies that WORK and work FAST!
---
But don't take it from me, hear it from some of the members who participated in the challenge by doing the lessons and attending the live trainings...hear their results and love notes!.











Many of the members who participated used this as a way to gain momentum in their business and start going live on a regular basis to catapult their visibility and their business.

Will you be next?
ENROLL IN THE COURSE AND START TAKING ACTION TODAY!
You'll have access to the daily lessons I delivered in the course of 5 days, plus the replays of the live training where I cover a ton of best practices, Do's and Don'ts (all video replays are time stamped for you to go directly to the subject and skip the parts that are not relevant),
PLUS: MY SWIPE FILES
1) The OVERVIEW focus of a challenge

2) The JPEG IMAGES I created for the daily challenge prompts published in the FB Group
3) The content copy I wrote to go with the DAILY PROMPTS
4) The daily EMAILS with the lessons and challenge instructions.
All you need to do is click the ENROLL button below or at the top and you'll have access to all the material right away, so get started, don't wait!
BONUS: RESOURCES
I've included A FEW cheat sheets and your budget friendly starter kit to UP YOUR game and make you look like the PRO you are.
SO, WHAT ARE YOU WAITING FOR? Start taking action and turn your FB Live Streams into your own t.v. channel where you get to be the producer of all the content that is published and where YOU are the star.

ENROLL TODAY!